A great example of a core use case of DevHub's Data Experience Platform and the positive results it can produce for clients.
This partner leveraged our platform tools and applied their expertise to the benefit of their client who experienced an immediate 40% bump in organic traffic across all their locations in their first month on the platform.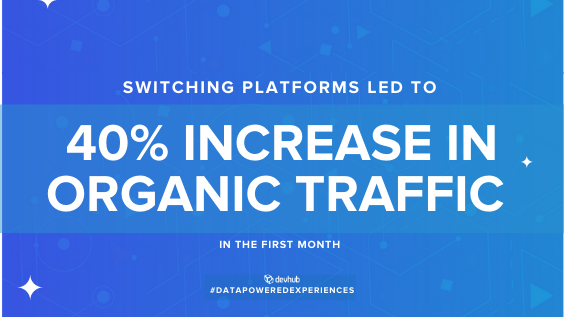 About the Client
Home services franchise with 220+ locations
Stakeholders:
Franchise Executive Leadership
Franchisee representative
Client Goals
Enable franchisees to grow and succeed in their local markets and improve per-location reporting
Project Requirements
Give franchisees control over aspects of their local presence
Enable discovery of local services based on distance, zip code, and consideration for multi-unit owners
Ensures brand safety standards are upheld across all locations
Enables corporate to implement business-driving programs on behalf of franchisors
Develop marketing and design around a narrow, unique business case & persona
Improve location reporting
Winning the Opportunity
The franchise was looking to make a switch from their marketing agency that could not fulfill the project's requirements. Our partner was the only solution that could meet the franchise's needs by leveraging our platform's features to differentiate themselves and win the deal.
While the performance is certainly not typical - it is something to brag about - and consistent with some cases that we've seen where all a site needed to improve traffic was an update that optimizes the site's content for the modern web and configures its page structure to adhere to modern web standards.
Learn more about our franchise marketing technology
Interested in becoming a partner? Let's connect!