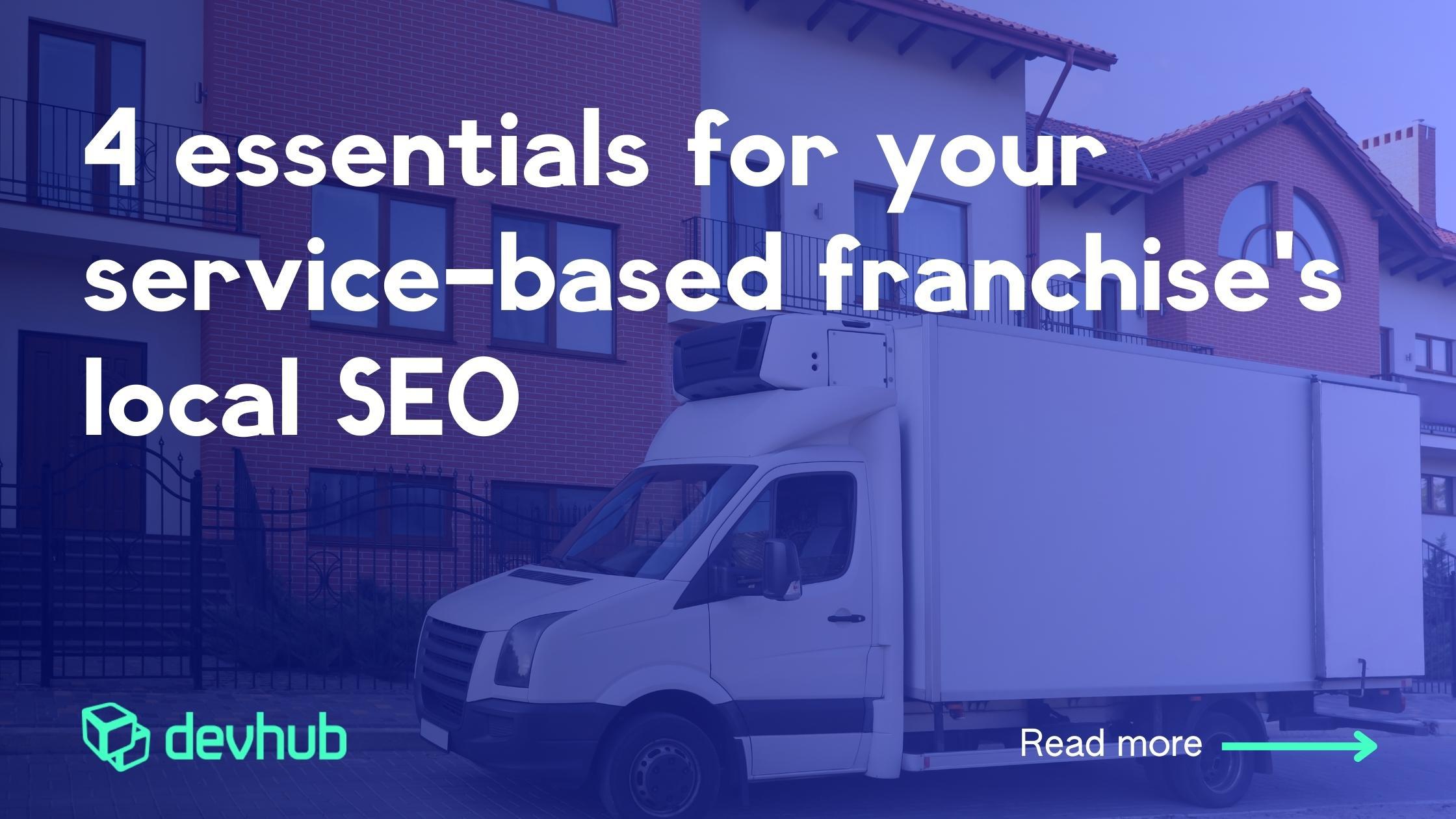 Let's face it: there's a whole lot of competition when it comes to every sector of franchising. Each day, customers are searching for the services you offer, so how is your SEO measuring up?
On a local search, you're competing for clicks, but that doesn't necessarily mean you have to pay to get to the top of the result list. Search engine optimization (SEO) is now more important than ever - well, when it's done correctly.
Why Local SEO is Important (and How to Do It Right)
Local SEO encompasses a range of activities and practices - that help your franchise's website rank higher in location-based searching. The first is schema markup and URL configuration. Combined, these components "communicate" with search engines to ensure your site and pages appear for relevant searches. They are complemented by meta descriptions and title tags to boost click-through rates when your pages do appear on search engines.
According to the latest statistics, more than 60% of potential customers will conduct a Google search for a business before reaching out to a provider. For service-based franchises, how and where you rank on Google largely determines your success rate, and local pages are essential. For example, when a potential customer searches for "senior care service near me," local pages and SEO can ensure your nearest location appears in the results - and there are techniques you can use to climb your way up the list.
Localize Your Core Presence
Not only should your corporate and franchise development sites be optimized, but you should also have microsites and pages for each location or service area. Depending on your franchise model and niche, this will mean either creating an individual website for each franchise location or a subpage on your corporate website for each location.
Regardless of which one you launch, they should have location-based keywords and be easily accessible. You'll also want to make sure you have a strong user experience, meaning quick load times and page stability.
Also, ensure each page of your website is mobile-friendly, as Google and other search engines are increasingly prioritizing a mobile-first search model.
Create a Google Business Profile for Each Franchise Location
Each franchise location should have a Google Business Profile, formerly known as Google My Business. This is a free platform Google offers to local businesses to help them attract customers. A Google Business Profile makes it more likely your listing will appear in organic search results.
Additionally, the listing also provides you some level of control over the way your business appears in search. This is accomplished through the types of services you list when you create your profile. Be thorough. According to Google, the best-performing profiles list between six and eight categories of business services.
There are two key steps a franchisor should take during the setup of a franchise location's Google Business Profile. For service-based franchises that typically are based out of a private office or the franchisee's home, be sure to select the option that your business is not a physical location customers can visit. This will prevent the local search results from displaying a location on the map.
The second step is to accurately select each franchise location's service area. Google offers several ways to create the service area, but the most common is by zip codes serviced. It's important to note that Google will display businesses within a set radius of a user's location, so if you have multiple franchise territories in a given region, they may all appear in a user's search results.
Finally, you can mark specific features such as woman, minority, and veteran-owned businesses.
Launch a Customizable Service Area Finder
Another page that may appear in a user's search results is your website's service area finder, and this is a great option to ensure franchisees do not overlap as they may directly through Google Business.
If you set your service area finder to require an address to generate results, you can assign the user a specific franchisee based on territory. The territory may be assigned by zip code or by a geo-territory on a map.
If your franchisees offer different services, or some offer more than others, you can even offer filters on your finder (for instance, if you run a senior care service and one franchisee offers personal care while another offers medical care).
Empower Franchisees to Collect Reviews
The final important component of Local SEO is securing reviews for each location. This is often up to the franchisee and staff to encourage happy customers to leave them, but you can do your part by providing marketing materials and superior customer service training.
Remember: Google's goal is to provide users with a great experience and the most accurate search results. Reviews are one way Google measures the importance of a business location, and the more positive reviews, the higher Google will rank it.
The Challenges of Local SEO for Franchise Systems
Local SEO can be challenging for franchisors to tackle on their own. Service-based franchises may have multiple locations competing for the same search results, or they not yet have dedicated sites or pages for each franchisee/location.
Because it requires plenty of expertise, time, and attention, some franchisors simply do not have the bandwidth to provide such in-depth support for all their franchisees.
However, with the correct planning and resources, each of these factors can be overcome, so that your franchisees and franchise system as a whole can reap the benefits - like awareness, leads, and revenue - of local SEO.
Support Your Franchisees and Boost Your Bottom Line With Local SEO
With over 260 brands launched and industry-specific integrations like appointment scheduling, CRMs, reputation management, and more, schedule a demo to get a firsthand look at how DevHub can help you optimize your franchise's digital strategy and scale with ease!