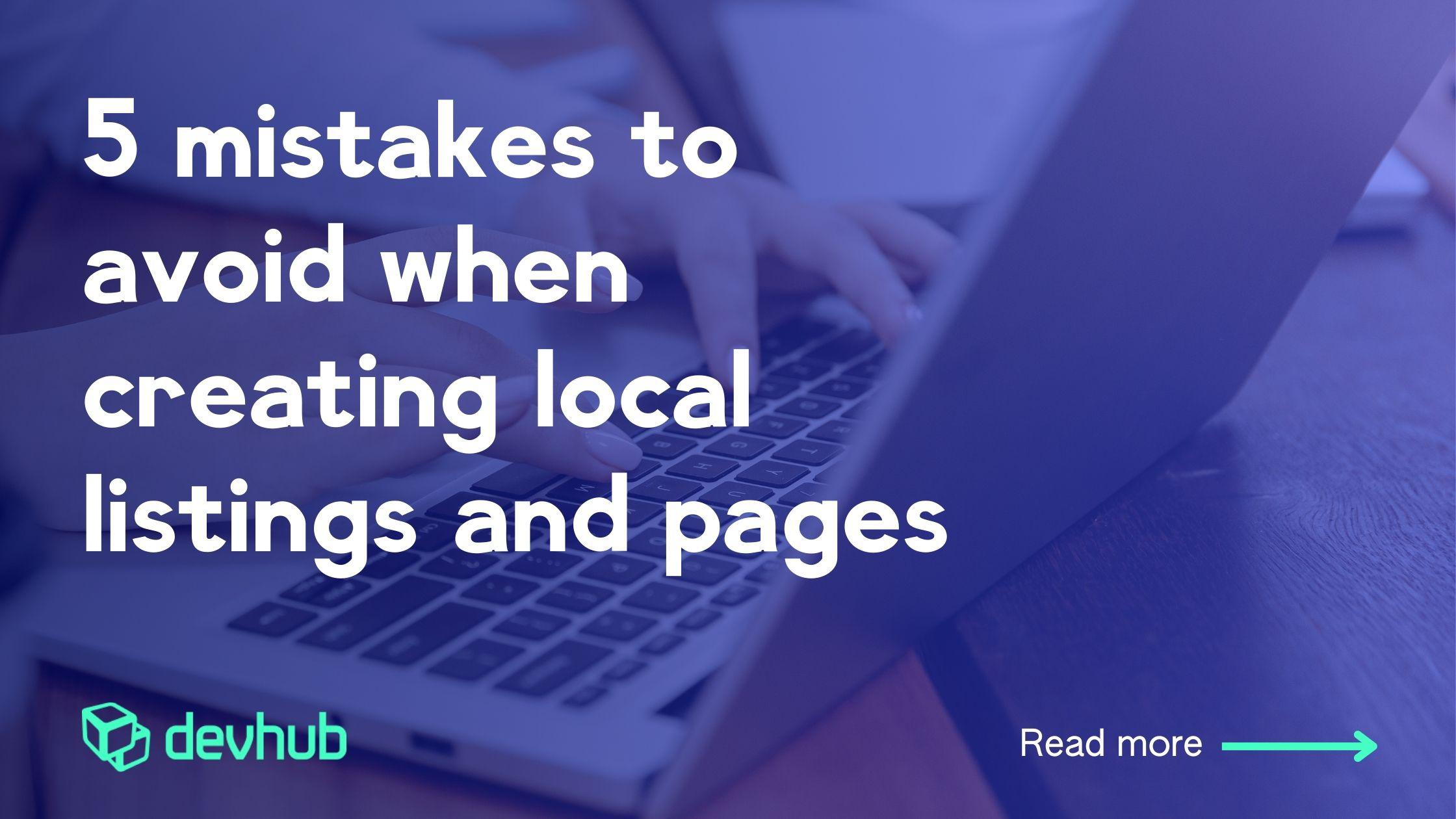 For multi-location franchises and enterprise brands, local listings and pages are an excellent way to drive brand awareness, revenue, recruitment, and overall growth. This is especially true considering that 76% of consumers view a business's online presence before visiting.
Whether you're looking to update your current local listings and pages or create new ones, there are certain mistakes that must be avoided.
1. Linking to a corporate site rather than a local site.
Having been in business for nearly two decades, this is one of the most common mistakes our experts come across. Your online experience is supposed to make things easier for customers to find information, and leading them to a corporate site will only add unnecessary extra steps.
On the other hand, linking directly to a local site or page means that your customers will have all the information they need with one click - from their closest locations hours to local offerings, specials, and events.
2. Not updating both your local listings and pages.
Oftentimes, businesses may update their local site, but not their local listings or vice versa. When they don't match up, it becomes confusing for customers.
The best way to ensure all your local pages and listings are kept up-to-date is to integrate them. When we set up our all-in-one location-focused marketing platform, connecting each local page to its Google My Business listing was one of our top priorities. Not only is it a huge time saver for our customers' leadership team and/or franchisees, but it ensures a cohesive online customer experience.
3. Having more than one listing or site for a location.
Occasionally, a location will end up with multiple listings on Google My Business or other online directories, and sometimes - even multiple sites. Whether you lose access to your original listing and have to make another one or your corporate team and franchisees accidentally double down on local marketing efforts, there's an easy fix.
Be sure you're monitoring your online presence for your locations, whether you do this manually or automate it. Many reputation management softwares will pick up extra listings and mentions of your business. Brand consistency is another reason you'll want to ensure you only have one listing or site for each location.
4. Having local sites that are off-brand.
Speaking of branding, creating each local page individually is the arch-enemy of brand compliance. While each location's information can and should be unique, the "look and feel" should be the same across the board.
In fact, that's what our business model is all about. At DevHub, we create custom, branded templates so that you can launch new local sites within minutes - and the best part? They'll all be perfectly on brand!
5. Avoid redirects.
As we mentioned previously, the key to a great customer experience is making things easy. Utilize your local listings and website to take them where they want to go.
Customers are looking for precision and without it, your site could end up with a higher bounce rate. The more they have to search for information, the less likely they are to visit your location over a competitor's.
Take Charge of Your Local Markets
Over 260+ brands have launched more than one million local sites with DevHub. Accurate, cohesive local listings are no longer a "bonus" for businesses - they are essential in the competitive, digital landscape. How does your online presence measure up?
Schedule a demo today to learn more about how we can help you go from "discoverable" to "top dog" in your local markets!