For many franchises, the first interaction a customer will have with your brand is on your website. Depending on your industry and franchise model, the action they take for brick-and-mortar locations may be clicking for driving directions or calling the location. For home services brands, however, they'll likely be prompted to fill out a form to get a quote or schedule an appointment.
But what happens when a potential customer starts filling out a form and stops before they hit "submit"? For most franchisors, that would be a lost lead, but for those who are able to capture that data, it becomes an additional opportunity. Partial form fill captures take what information a user had entered so far and send it to the franchisee, who can then follow up for more details.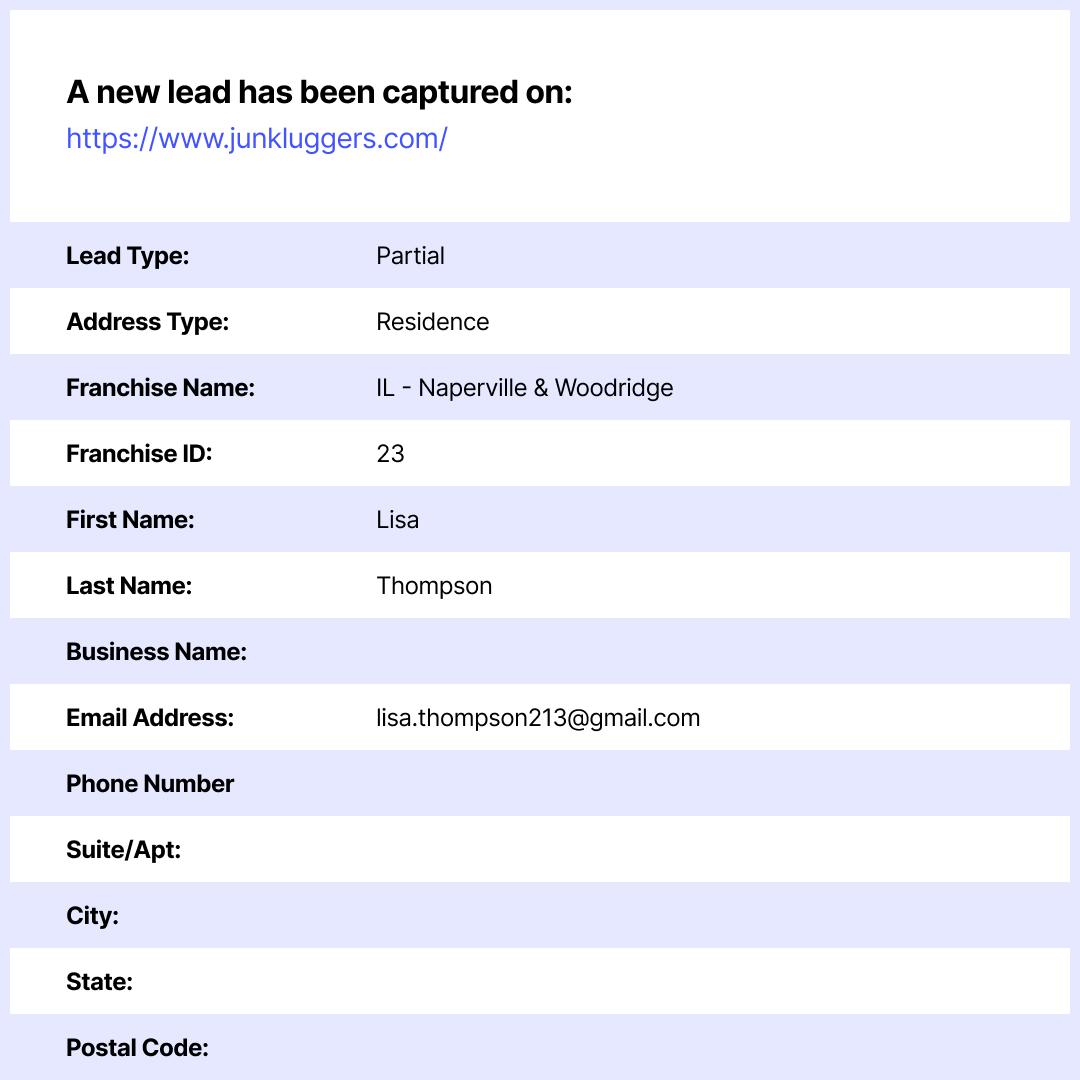 Your CMS platform plays a vital role in seizing, protecting, routing, and capturing new leads. While most are unable to capture form fills, we've created a solution - and here's how to make the most of it:
​​1. Give franchisees access to partial form fills
Capturing partial form fills not only means more revenue for your franchise system, but for each franchisee. To boost your conversion rates, it is first crucial to have a system in place that distributes the leads - whether from completed or partial form fills.
Assigning each franchisee specific zip codes and territories can eliminate overlap and ensure each lead is routed accordingly. Once this step is complete, be sure your system has a seamless notification system to send data from partial form fills in a timely manner.
​​​2. Emphasize follow-up in your franchisee training program.
A system that can capture partial form data in real-time is only one half of the equation. Because home service requests are often timely, immediate follow-up is also required. A partial form fill may mean that they hopped onto a competitor's site and made an inquiry there right after. Therefore, your franchisees will want to "beat competitors to the punch" with their outreach.
When you're deploying a system to essentially "undo" lost revenue, the follow-up (or lack of) can make or break its success. If the franchisee lags in response time or the data "sits" in the system for too long, it's likely a competitor who did follow up right away will win the deal.
​​​3. Differentiate your customer service.
Besides boosting revenue for you and your franchisees, partial form fills and its follow-up process can provide a one-of-a-kind customer experience that shows another level of attentiveness and builds trust.
Addressing partial form fills by reaching out in a helpful, non-intrusive manner shows potential customers that you are "on top of your game" and eager to assist. A simple, "I just wanted to make sure you have everything you need to (refer to their desired service)" goes a long way. For your home service franchisee, this means thoroughly training all of your employees in addition to your franchisees.
​​​4. Rectify issues and disconnects.
Another benefit of partial form fills is the valuable data it provides your marketing or sales team. By defining where users drop off in the form, you'll be able to draw conclusions on what needs to be changed. A few common mistakes with lead capture forms are being too lengthy or questions that are too broad.
For instance, if many users abandon the form after a field asking about the extent of damage, it might indicate that they are unsure about how to answer or are concerned about costs. Therefore, you may want to leave that question for the follow-up. Adjusting accordingly leads to an improved user experience, which can in turn, mean higher customer satisfaction and more referrals.
5. Optimize your marketing spend to boost your ROI.
When running paid search campaigns, a high click-through rate doesn't necessarily equal a large amount of conversions. Odds are, right now, only a fraction of the users clicking on your site via paid search campaigns will complete a form - but how many are starting them?
For home services brands, in which each transaction is of higher value (compared to other industries), even a few "saved" leads go a long way. By addressing and reducing form abandonment, you're optimizing your marketing spend a lot further.
Convert "almost" into "yes"'s.
By reducing lost opportunities, driving revenue in each service area, and improving the customer experience, partial form fill captures are one of the most powerful tools for your home services franchise's website. When implemented correctly and followed up on accordingly, they'll allow you and your franchisee to capture all the leads (and revenue) that have been slipping through the cracks.
Click here to learn more about how you can help your franchisees convert more "almosts" into "yes's".