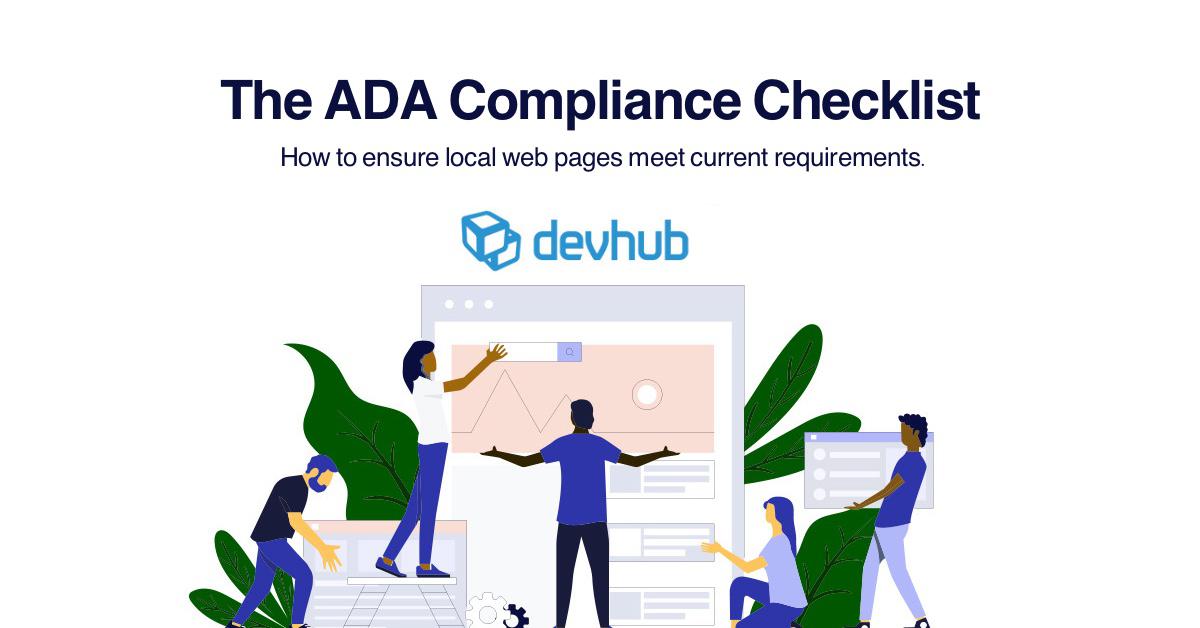 The Americans with Disabilities Act (ADA) outlaws disability discrimination in a variety of settings, including employment, transportation, public accommodations, communications, and access to state and local government programs and services.
Certain companies are required by the Americans with Disabilities Act (ADA) to offer reasonable accommodations for individuals with disabilities. Web content should be accessible to blind, deaf, and hard of hearing users, as well as those who must navigate using speech, screen readers, or other assistive technology.
Maintaining an ADA-compliant website protects your company from litigation and fines while also offering necessary concessions to potential consumers.
Failure to build an ADA-compliant website may expose a company to litigation, financial obligations, and brand reputation damage.
In our physical environment, public businesses follow legal standards such as providing designated accessible parking spots and placing raised marks on elevator control buttons. Until now, these accessibility requirements have not been strictly enforced online.
Who is responsible for adhering to ADA guidelines?
The following organizations must comply with ADA requirements:
Government agencies at the state and local levels
Employers with 15 or more employees in the private sector
Businesses that operate for the general public's benefit
Because the ADA includes electronic and information technologies, such as the Internet and its websites, ADA compliance affects nearly all organizations and webmasters. In most situations, sites (and their designs) are not deliberately disregarding ADA standards.
How to Make an ADA Complaint Webpage
New ADA standards for web accessibility went into effect in January 2018. While no business can be completely compliant, there are actions that may be taken to ensure that their sites are accessible to individuals with disabilities.
Here are a few steps to make an ADA complaint webpage:
Examine the Guidelines for Website Content Accessibility (WCAG 2.0): These guidelines provide advice on how to make your website more accessible.
Use a WAVE Web Accessibility Tool to evaluate your site: The WAVE Tool in Google Chrome is an excellent tool for detecting accessibility problems such as missing alt tags, styles, and so on.
Ascertain that your photos have descriptive alt tags: Screen readers, players, and voiceovers use alt tags to describe things on a webpage to users.
Examine the styles and features of your website, such as headers, buttons, and links: Keep in mind the "all" sorts of people that visit your website, including those with impairments. For example, if your site's navigation uses lighter, smaller letters on bright backgrounds, certain viewers may find it difficult to read-- utilizing sufficient color contrast is important.
When creating material, use these online writing best practices: Keeping your website content basic and conversational might make it easier for people to skim material. Using headings, sub-headlines, and formatting can also assist in breaking down material into smaller bits or portions which helps distinguish content hierarchy. Include periods between the letters in abbreviations and acronyms like FBI to assist screen readers pronounce them correctly.
Touch targets optimized for mobile viewing
ADA Compliance Checklist
At DevHub we strive to have all of our local pages not only SEO optimized, but ADA compliant. When taking pages live we ask:
Does the website have an accessibility policy page?
Have we read the law documentation?
Do all media files and maps have an "alt" tag?
Are all PDF files accessible?
Do all hyperlinks should have a descriptive anchor text?
Do all pages have "skip navigation" links?
Do all online forms have descriptive html tags?
Is all the text content structured using proper heading tags?
Are all HTML tables populated with column headers, row identifiers and cell information?
Do all videos have subtitles, transcripts and audio description?
Is the color contrast of web pages sufficient according to WCAG?
Are all fonts accessible?
Do all audio files have a written caption?
Does the page have easily locatable contact information to allow users to request accessibility information?
Do all call to action buttons have an accessible name and an ARIA label?
Is there a website accessibility check to prevent missing critical accessibility issues?
Is the website accessible with keyboard navigation?
Have we tested the website accessibility according to the Website Content Accessibility Guidelines
When DevHub takes a local page live, ADA compliance in accordance with WCAG 2.1 AA is built into the template structure and design on launch of the project. We then recommend that our clients audit the WCAG prior to, or shortly after launch (within 2 weeks) and provide any adjustments needed to the template. We also suggest a quarterly audit by a 3rd party or validation too to ensure compliance stays relevant.
With new ADA Web rules, it's critical to begin taking steps to make your site ADA compliant. And keep in mind that ADA compliance is not a one-time event, it is part of standard upkeep of your website. All DevHub pages come ADA compliant. Contact us today to get started.