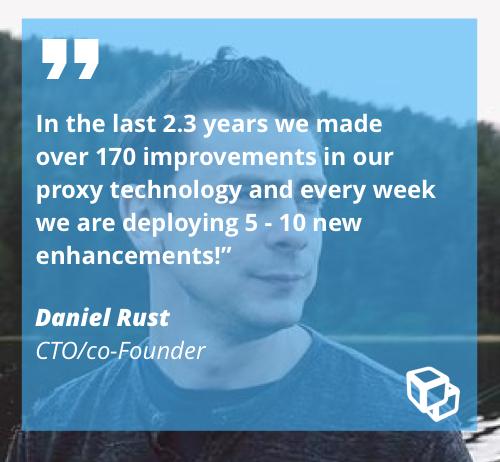 If you are looking up proxy technology, either A) your company's legacy platform just gave out or is about to or B) you realized there is no way to re-create or efficiently re-tool in the amount of time needed to have a viable solution. In either case, DevHub has consistently updated our proxy technology for internal use and for customers of the platform. Here is a brief rundown of all we've done so far with proxy:

Proxy Functions

Account provisioning
Analytics Reporting
Adding/ Disabling proxies
Sandbox environment for testing
Bulk update URLs

Changelog's

New proxy filters for GA tracking code
Proxy support for custom 404 pages
Proxy serving now using cache pointers
Support for base_directory Proxy and Domain Alias sites
Proxy domain field validation
Initial frontend and endpoints for managing Proxy
Combined resource (site, proxy, aliases) url check endpoint
Proxy parsing improvements
Added partner_proxy_id field to Proxy
New "proxy-theme" rendering mode for Themes
URL validation disabled on Proxy URLs
Auto-redirect between www and non-www proxy full domain urls
Automate domain registration
Active products setting (i.e. only proxy enabled) to optimize queries in other datacenters
Hide distracting navigation elements to tighten the conversion funnel
Prorating support with site/alias/proxy activation/deactivation logging

Marketing

Platform Agnostic - DevHub Proxy is able to proxy from any site, regardless of how it was developed.
Minimal IT Support - DevHub hosts all proxied sites on your behalf, eliminating the need for additional spend on IT infrastructure.
Temporary - DevHub Proxy uses the latest web search best practices to ensure sites are not indexed by search engines.
Write your own optimized copy and call to actions
Add any of DevHub's modules or integrations to pages
And of course.. track every interaction the visitor does to get the full view of how the campaign is performing
"In the last 2.3 years we made 170 - 180 ish improvements in our proxy technology and every week we are deploying new 5 - 10 enhancements!" Daniel Rust CTO/ co-Founder