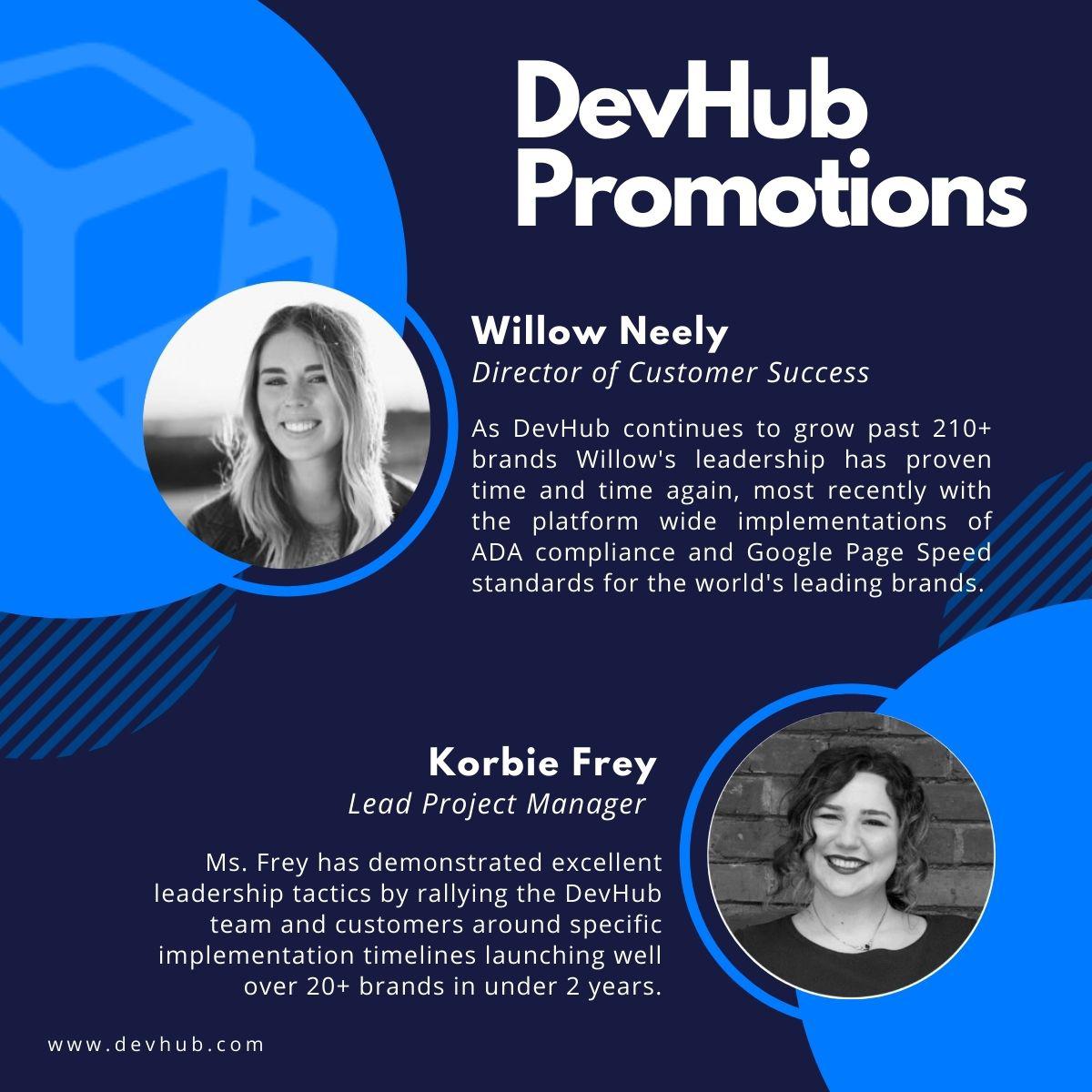 FROM THE FOUNDERS
On behalf of our employees, customers, partners and shareholders - Daniel and I would like to extend a huge congratulations to Willow Neely and Korbie Frey for their promotions (read below). Within the last two years both Willow and Korbie have been foundational to building out the Customer Success team while launching more than 50+ brands between partners and DevHub. As a partner or brand working with DevHub, you have undoubtedly felt their impact - from scopes to on-boarding to launches. Thank you to Willow and Korbie.

PROMOTIONS
Willow Neely promoted to Director of Customer Success
After three years of spearheading DevHub's customer success organization we are more than thrilled to promote Willow Neely to Director of Customer Success. As DevHub continues to grow past 210+ brands Willow's leadership has proven time and time again, most recently with the platform wide implementations of ADA compliance and Google Page Speed standards for the world's leading brands.

Under Willow's leadership, DevHub continues to streamline the go-live experience for Fortune 1000 companies. She is a graduate of Washington State University.

Notable brands: Chicos, Hertz, Expedia

Korbie Frey promoted to Lead Project Manager, Customer Success
In two short years Korbie Frey has continued to innovate project management standards and workflows for the world's leading brands. Ms. Frey has demonstrated excellent leadership tactics by rallying the DevHub team and customers around specific implementation timelines launching well over 20+ brands in under 2 years.

Korbie began her career at Starbucks as a communications specialist before joining DevHub. She is a graduate of the University of Washington.

Notable brands: Lincoln Financial, Milwaukee Tools, DIRECTV
I hope you'll join us in congratulating Willow and Korbie on their outstanding contributions to the customer success department and the DevHub org!