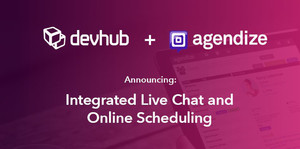 Recognizing the value of booked appointments and live chat sessions as secure leads, DevHub, in partnership with Agendize, has introduced the integration of Appointment Scheduling and Live Chat into its R7 CMS Platform to build and manage responsive websites as well as high-conversion landing and lead gen pages. "There are specific businesses that value appointments far greater than other forms of leads. Integrating appointment scheduling gives companies like yoga studios, hair salons, plumbing services and dentist offices, next-gen tools to care for and retain customers," says Ed O'Keefe, DevHub's CEO.
Business categories that use online scheduling to automate client appointments can easily send appointment or service reminders, book services, classes and staff online, 24/7 even when their business is closed. Accenture predicts that "by the end of 2019, 66 percent of US health systems will offer digital self-scheduling and 64 percent of patients will book appointments using digital tools. Nearly 38 percent of all appointments will be self-scheduled—almost 986 million appointments—creating $3.2 billion in value."
67% of website visitors are receptive to proactive live chat invitations - a simple chat box that both consumers and business owners can even operate from their mobile phones. Website visitors who respond to proactive live chat invitations are 8 times more likely to make a purchase than regular visitors. "These features strengthen the relationship between a local business and its customers," adds Agendize CEO Alexandre Rambaud. "They provide an edge for both small businesses and franchises who wish to upgrade the quality of service they offer their clients."
Press contact
Mark Michael
DevHub R7
206-441-4399
whitelabel@devhub.com