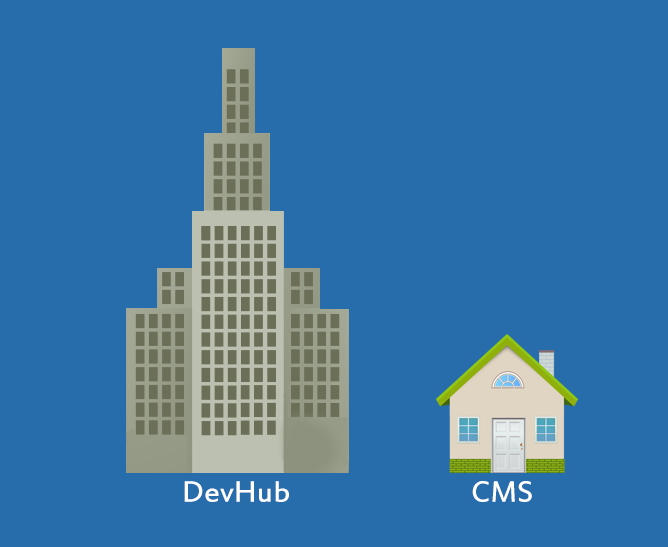 DevHub is a web platform.
DevHub is a platform situated at the crossroads of website builder and enterprise CMS. The DevHub difference lies in its use cases… from global agencies unifying disparate clients, to national brands creating local sites controlled by local managers; from media companies offering digital products to their small business customers, to regional companies providing a vertical solution and technology providers seeking to differentiate their product. DevHub powers them all.
DevHub is a mindset, in which building a scalable future aimed at local markets and improving customer product offerings is a reality.
Maintaining SEO, keeping customer sites 100% intact, giving more flexibility to small businesses, modernizing platforms, and introducing new products… just a few of DevHub's capabilities in executing a migration for our partners.
DevHub is the world's most comprehensive, open, and integrated web experience platform in the market today. It is the only product to offer the complete technology stack - engineering, utilization, customization, training, and support SLA's - at ever level of use. DevHub is optimized to scale according to your needs and to integrate with a range of 3rd party vendors, including CRM systems, sales acceleration platforms, analytics providers, and specific marketing solutions.
WHAT'S NEXT
DevHub works with you to determine the scope of the project; to outline goals and objectives; to select the best migration strategy; and to define costs and timelines.
The DevHub team will carefully analyze your current workflows and identify possible constraints, looking into your current partnerships, resources, road maps, dependencies, and operational requirements.
DevHub will provide you with elements for your business case and will help you demonstrate the value of the migration as a necessary step in improving business and production efficiencies.
When appropriate, DevHub will build a proposal that includes a detailed assessment of your current infrastructure.
We know that hearing 'platform migration' or 're-platforming' sends chills down your spine. We also know that doing it effectively can help your organization better adapt to market demands, Google's whims, and security issues. It is without question a defining decision for any team or organization. DevHub is your partner for the long haul - let us put your fears to rest.