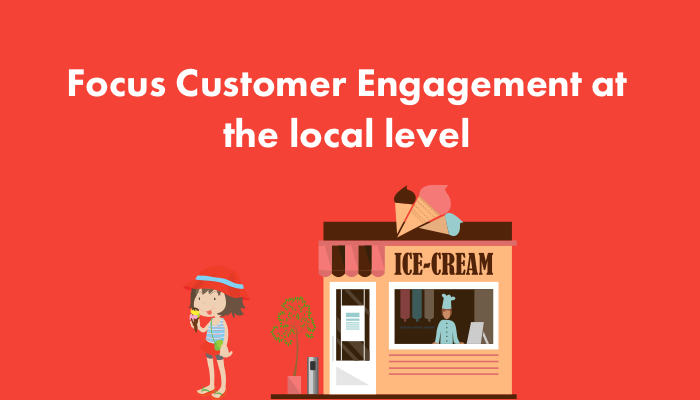 As a business owner, you need to balance the identity of the brand with the reality of your store, or the many individual local stores under your brand: food companies are desired brands, but customers also want to relate to local businesses. How does this dual identity play out in web searches, and how do you deliver the best possible web experience for you and your customers?
The tried-and-not-so true method of search is for customers to find the brand's corporate site, then click down to the local store. Not-so-true because this is not the typical user's path, as – and this is especially for mobile searches – people are looking for food in their area via the "restaurants near here" feature on Google maps, or a localized search such as "catering in Aakron" .
By creating a group of individual local site pages, you can deliver directly engaging web searches for local stores. And, if a guest click on a local page, you want the ordering process to be as seamless as possible – with the store preselected – because that's what customers want. If you drive customers toward the corporate site at this point it will break the search cycle, with more clicks and a feeling for the guest of being "back to square one".
Below is a real life case study, in which a national brand managing 269+ locations across the U.S. doubled unique organic search results and unique online ordering interactions in under a year.
Problem: Integrating Franchisees' Location Pages into a National Brand's Digital Strategy
Location pages with no dedicated URLs, or URLs with poor structure
One corporate-level Location page listing all location addresses
No SEO or geographic information in Location URLs
Franchisees' orphaned web presence or Google+ pages with outdated info
Inconsistent NAP (Name, Address, Phone) details across the web
Google+ Location profiles link directly to Corporate Site
Franchisees' Location Finder, Location Pages, and Online Ordering are out of sync and on separate systems
Problem, Solved
SEO-optimized URL for each location
Breadcrumb Sitemap for enhanced Spidering, e.g., ⁃ /new-york/bedford-hills/
Location pages contain RDF and Geo Metatags
Online ordering integration
Business listing management integration
Location finder
Full funnel tracking
The Organic Results
Unique Organic Search Results
July: 2015 - 8,396/mo
July: 2016 - 19,165/mo
Unique Online Ordering Interactions locations participating in online ordering
July: 2015 - 766/mo
July: 2016 - 1561/mo
At the end of the day, it is about delivering what the customer needs. People are looking for a local connection.
###
This was a guest post by DevHub for Monkey Media Online Ordering - part of their Monkey U series - October 14, 2016