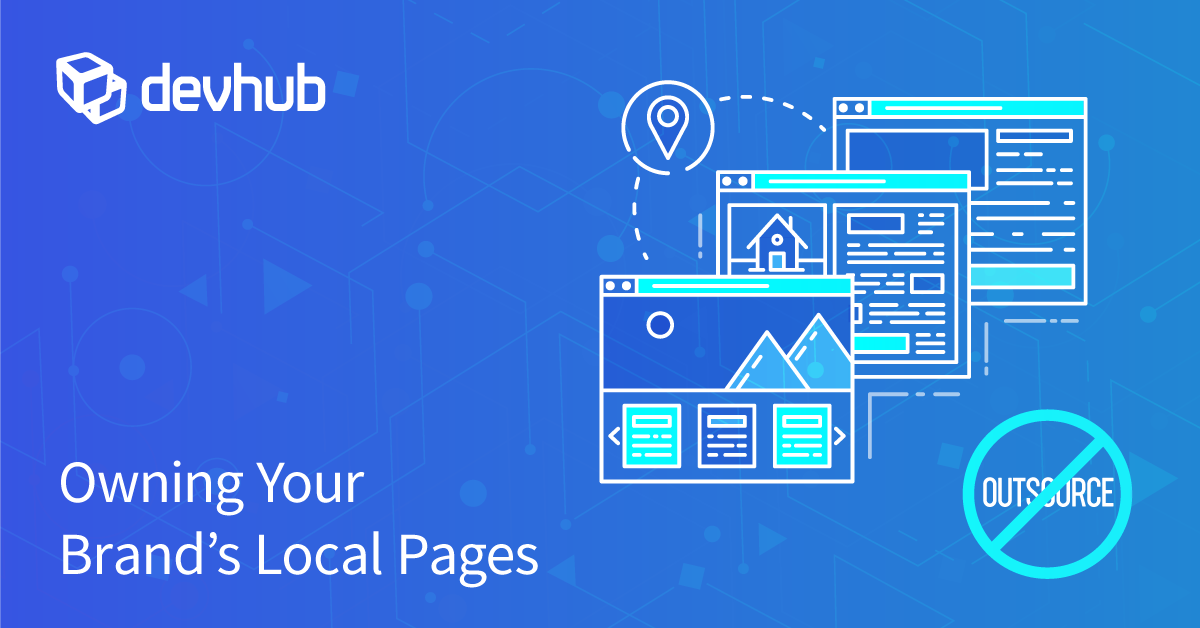 Pick your favorite business listing management and/or reputation management provider - but keep your local pages separate. Here is why - as a brand you need to have full control over every element of the local presence to be effective at local marketing. It is easy to deploy local pages with basic NAP (Name, Address, Phone Number) but what about adding a blog to a page or uploading a calendar or integrating with a new marketing automation platform. Will your listings provider do that for you? Chances are no! Every marketing technology should sync with the local page from social media management tools to review widgets to online ordering to marketing automation and CRMs. Will your current listings provider do that? Chances are no!
As local SEO becomes harder - only the true methodologies of building consumer centric local pages will win i.e relevant content, structured data (schema) and correct SEO markup. Always be ready for what technology will come next - DevHub is constantly evolving to stay relevant with and ahead of trends.

Here is How to design and implement Local Pages -->

1. Why companies choose to create local landing pages / city pages
Traffic potential outside the local pack

GMB limits them to only one listing per physical location; doesn't work if you don't have physical locations for all areas you serve

Want to develop locally relevant messages for their visitors
2. What makes a great local landing page
Great unique (locally relevant content (attractions, neighborhood info, details of your history in the area, local pain points, manager on duty etc)

Targets location based keywords in its SEO

Unique(non-templated) metadata (boosts organic CTR)

Reviews

Staff quotes

Local images

Local videos

Maps showing service area
3. How do you create so many pages?
Develop a master template (that meets brand compliance) and define what each section will include; identify which sections will be updated on each city page and the type of asset it is

Create a collection of resources and links that writers can refer to when writing content

Build a style guide and creative brief for the project to ensure quality is consistent

Figure out how you're going to create all the content, and how you're going to get the pages live

Content creation – for smaller projects, you might tackle those in-house. If you have a lot of pages to create, we'd recommend using a service that specializes in creating this type of content.

Publishing – if you're creating large numbers of pages, getting the content live can become a massive undertaking. We recommend using Rally Mind to do this. This will let you add your content to a row in Google Sheets and have a local landing page created
4. Content creation – using Crowd Content's team of writers, you can quickly tackle most local content projects. Here are some things we can do to make things run smoothly:
Build your team of writers experienced writing local content

Create a framework that all your writers work within that syncs with your template; we can build out any number of fields, label them, provide instructions, and then set both minimum / maximum word/character counts (we'll include screenshots, video)

QA – have all of the content reviewed by a team that enforces your style guide and creative brief

Export your content into a CSV file with each city representing one row; each cell in a row would contain the content for one of your sections
5. Publishing – if you're using Rally Mind (and you should), you can take the csv with all your completed content and use that to create any number of local landing pages at once
Step 1 - Create Master Template

Step 2 – Create Campaign content

Step 3 – Use Data To Auto-Publish Landing Pages – this is where you'll import your CSV file from the previous section
To learn more about deploying local pages or about DevHub integrations click here.