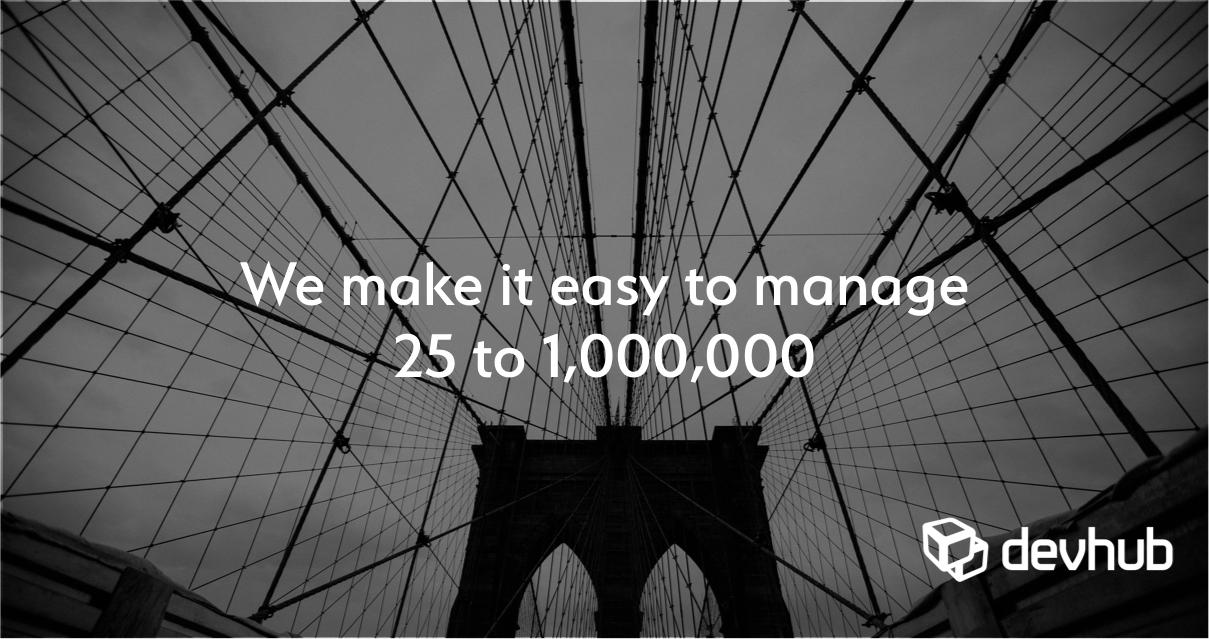 Working with 100+ websites? You need to know the issues you could run into when trying to scale production with Wordpress. DevHub's philosophy is that you can scale production, simply, quickly and economically. In developing DevHub's revolutionary CMS platform, we focused on improving our competitors' offerings, and we consistently win at cost reduction, production time, template customization, workflow optimization, and standardization.
| Problem | Wordpress | DevHub |
| --- | --- | --- |
| Cost | Unpredictable Fees | Simple fee structure with no hidden costs or limits on growth |
| Production time | 30-60 days to produce a semi-custom website | 24-48 hours for 10 semi-custom websites with our partner, Affinity Express. Actual production time? 4 hours. Really. |
| Template customization | Requires editing 17+ files | Edit just 3 files, with real time changes |
| Workflow optimization | Clunky integrations | Automation and seamless integrations |
| Consistency | Wordpress templates + plugins and 3rd party modules = inconsistent look, feel and behavior across sites | Module and template modifications instantly deploy across sites for uniformity |
Unpredictable Fees:
Have you read the fine print? Can you really forecast how much it's going to cost a year from now? Hidden fees can cripple your budget, make your site less competitive and stall the evolution of your product and service strategies. With DevHub, you get the same cost predictability as with Wordpress while dramatically lowering your actual cost to produce sites.
DevHub's fee structure is simple - no hidden costs, no limits on growth. Easily add services and resources and enjoy all the updates DevHub makes to the system, free. And, you'll never pay for customers that drop off. Unlimited potential with DevHub.
Unlimited website pages
Unlimited websites for individual customers
Unlimited bandwidth
Unlimited number of website builds
Unlimited number of merchants and users
Unlimited content, including images, text and video
Unlimited private labels
Production Time: Time is money. DevHub saves you time and money by streamlining the production process, enabling max customization with a mini timeframe.
Produce 10 semi-custom websites in 24-48 hours with our partner, Affinity Express. Actual production time is 4 hours. Wordpress averages 30-60 days to produce a semi-custom website.
Customize a DevHub template by editing just 3 files. Wordpress requires at least 17 files to customize a template.
Change the template in real time, with no effect on the master template. Changes to the template can be seen in real-time and have no effect on the master template
Create a custom website in a few hours using our HTML editor on a pre-existing base template.
Build a completely custom and reusable template from scratch in just 2-3 days.
Workflow Optimization: DevHub is all about simplifying the process. Unlike Wordpress, which requires users to log into up to 6 systems, DevHub can optimize workflow. Our goal is to work with your team to develop the most efficient and economical workflow solution. Our Single Sign On (SSO) API allows one-click navigation to various parts of our app, reducing time to delivery and production errors.
Integrate content production, client onboarding and site building to economically and efficiently produce thousands of websites each month.
DevHub Site Publishing API powers all of the user accessible forms for creating new orders and adding new sites, so we can fully customize frontend workflows and captured data fields to match our partners' requirements.
API functionality auto creates multiple pages containing specific modules and placements without having to manually create each page using the supplied order information, accelerating the setup time for each site.
Some of the Integrations DevHub works with:
Website CMS (Wordpress)
Domain Registration (Dotster or GoDaddy)
DNS
Email (Rackspace)
Customer Order (SalesForce or others)
Project Management (AtTask or others)
Typical DevHub workflow process as follows:
Customer Order: Salesforce > Convert a closed/won opportunity into a provisioned website ready to apply a template/content. DevHub updates SF on account changes, domain name, credentials. Single Sign On: Link to DevHub Dashboard.
Website CMS: DevHub > Email, Domain registration and DNS management built into DevHub dashboard.
Project Management: AtTask > Single Sign On: Link to DevHub Dashboard for client. Link back to AtTask
Consistency & Standardization
Having trouble with your Wordpress sites not looking, feeling or behaving consistently? You're not alone. Built with a variety of plugins and 3rd party add ons, Wordpress templates are never going to adhere to a single set of quality, performance or design standards across sites. DevHub eliminates those problems with a number of innovative solutions.
Every model is designed to be part of a UX family and then rigorously tested to ensure consistency. It outperforms competitors with both new templates and legacy templates.
Specific modules can be locked by user group, so that only specific feature sets are available for different production types.
Module and template modifications, new features, SEO improvements and bug fixes can be instantly deployed to specific sites or to all.
Create new modules, improve existing ones and replace them all at once, across websites.