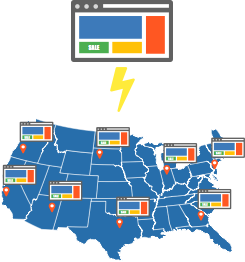 According to co-op advertising platform company, Sproutloud, there are more than 4500 co-op advertising programs offered by US brands and franchise organizations making available $50 billion in available advertising funds, half of which goes unspent by local companies. Some of the critical factors preventing greater use of co-op advertising funds, according to a 2015 Netsertive and Borrell Associates study, were 50 percent of local partners don't understand digital marketing, while 31 percent of co-op programs don't offer digital marketing and 63 percent don't offer social media marketing as options.
In a 2015 Thrive Analytics Small Business Advertising and Economic Outlook survey, Small and Medium-sized Businesses (SMBs) plan to invest more marketing spend on websites (36%), social media marketing (35%) and mobile marketing (34%).
In fact the top eight categories for increased spend all focus on the company's website and digital marketing executions, whereas many co-ops focus on traditional print and broadcast media. Clearly there is a disconnect between what brand and franchise co-op departments are funding and what media types SMBs feel are most effective at driving local traffic and purchases.
According to co-op advertising platform company, Balihoo, "39 percent of brand companies believe it is critical to be able to direct consumers to locations to purchase their products or services, while 25 percent said it was very important." The struggle for brands, franchise organizations and their agencies is being able to coordinate, manage and localize hundreds if not thousands of local campaigns. While many focus on Google business listings to help direct traffic to local merchants. While a great Google listing profile is critical, it belongs to Google. All that traffic goes to Google vs. the Brand. All the search intelligence goes to Google and is then made available to the brand. One of the most effective ways to manage and coordinate local campaigns, and effectively measure return on investment (ROI), is using the local website as the digital campaign hub.
"Top performing brands that used local marketing automation technology reported 300% or more increases in revenue growth within the first 12 months of implementing the technology." – Sproutloud 2012
While adopting ways to automate local marketing provides tremendous ROI, Balihoo reports that only 7 percent of companies are currently utilizing local marketing automation. Local store websites, with full analytics, capture local customer intent, engagement and purchase behaviors. How many calls made to the store, appointments scheduled, coupon downloads, online orders, request for driving directions are critical bits of information that inform brands on campaign success and local impact. This level of local data is critical to knowing a brand's current and new customer behaviors on a location-by-location basis. Savvy brands using local website automation are able to capture a wealth of local data and loop it back through their agencies and co-op departments to use in refining and optimizing their paid campaigns and programmatic media buying strategies. Having greater visibility and control over local campaigns and data often reduces spend while increasing ROI.
An agency or co-op department powered with the ability to instantly experiment with pushing brand approved content (variances of offers, variances of creative, etc.) to local websites are armed with a potent tool to experiment and test local consumer reaction to boost sales by location or region, take advantage of seasonality or leverage local events. Today, more that 60 percent of brands, cannot seamlessly put location-specific creative on their operators' local website. Most have to email, beg, or manually add the newest monthly creative content/promotion/offer to their hundreds or thousands of websites manually. Most just don't or can't manage localized changes on that scale.
At DevHub, we have seen significant INCREMENTAL lift in foot traffic and new customer conversions happen when national paid ad campaigns are localized and placed on franchise and partner websites. Consumers often trust their local neighborhood brand store and website more than the corporate brand itself. So when they see "Free ice-cream cone Thursdays" on their local neighborhood store's website, they take action. Utilizing the DevHub website management platform and conversion intelligence, brands, agencies and franchise organizations are able to track digital campaigns, coordinate multiple local initiatives, learn what converts at the highest rates, then apply that learning to inform future campaigns and media buying efforts. The local website is the digital hub, and a significant way for agencies to capture more unclaimed co-op advertising dollars.
About the author: Michael Taylor is an international digital marketing and sales strategist, helping companies understand digital transformation and how to build competitive digital portfolios. Michael is a former Sr. Analyst and Business Development Director with BIA/Kelsey, acting as an advisor for DevHub.