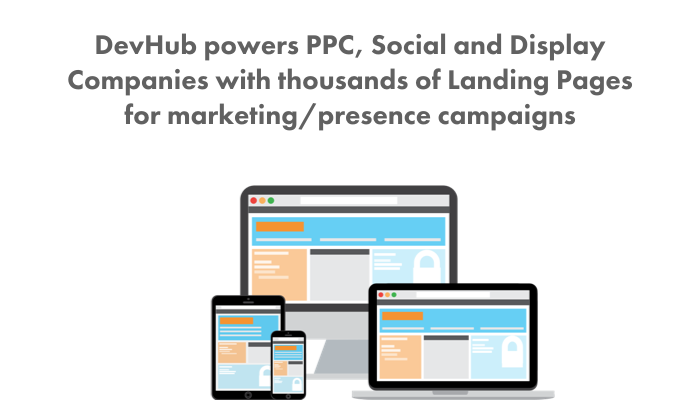 Today, the day after Thanksgiving in the USA - the DevHub team is working to onboard new/ existing customers. Here are some of the ways they (customers) are utilizing DevHub's multi-dimensional platform:

VERTICAL PLAY
Designing a go-market strategy for real estate, automotive and financial services has been popular the past couple of months. Today, DevHub powers digital experiences across these and many other industry-specific solutions.

STRAIGHT-UP
DevHub's core platform excels at deploying sites at scale - today more than 1.6 million digital products i.e. sites, landing pages, profile pages, local sites, regional sites, and more have been built.

CMS PLATFORM MIGRATION
Over the past 48 hours, we have migrated over 200+ sites/ landing pages/ proxies to DevHub (each with SSL baked in).

BUILD YOUR OWN MARKETING CLOUD
The traditional CMS is dead. Today, an agile marketing cloud is demanded - powered by a thoughtfully robust digital experience/ web experience/ presence platform (hint: all mean the same). See our integrations for more on bringing together your marketing and advertising technologies together in DevHub.