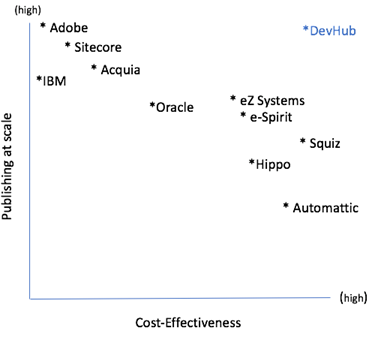 Everyday we talk with companies who either 1) built their own CMS platform in 08/ 09 or 2) are using a bespoke version of Wordpress/ Multi-site.

To-date we have migrated hundreds of thousands of sites from legacy platforms.

"We recognized early on that the enterprise demands and CMS demands were out of sync," shared Mark Michael CEO/ co-Founder DevHub.

For one, web standards are changing so fast that managing anytype of scale becomes a nightmare. For example in 2014/15 having a responsive website was #1. Today, SSL ...tomorrow ADA compliance? How would a legacy CMS platform manage those types of rollouts without incurring ridiculous production costs?

Enterprises need a dynamic CMS that is priced to scale as quickly as their customers demand without worrying about downtimes or the next Google update.

If you are using a legacy CMS like WebsPlanet, Mono Solutions or have a home grown solution - let's talk. Re-Platforming / Migrations are easy with DevHub and typically have no upfront cost.