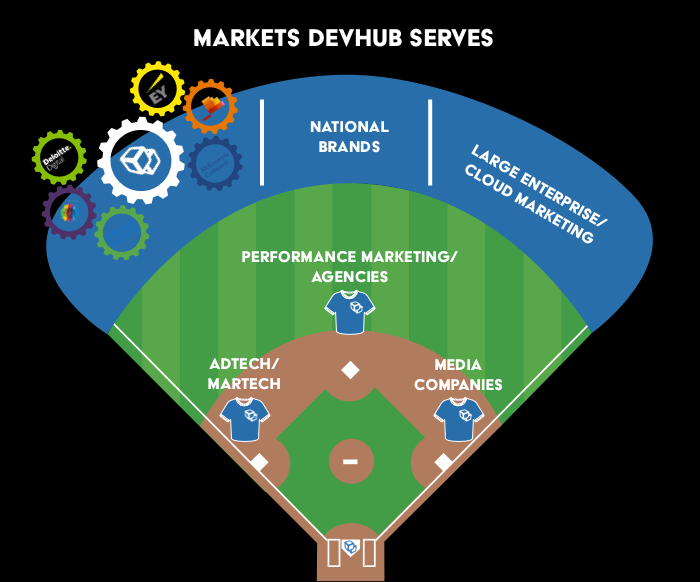 In the fast-paced marketing technology landscape where quantity over substance/ quality seems overwhelming, DevHub cuts through the mess and disrupts any preconceived notions of what a web experience platform/ CMS (DevHub) should be - thoughtfully robust, scaled and flexible. Here is part 3 of working with digital consultancies.
Q: How is your firm different from others?
The DevHub platform is more than just a website builder. We treat the website as the hub of a business's web experience tied with a digital marketing strategy, providing a multi-dimensional experience that seamlessly integrates with our enterprise clients provisioning cycle allowing for the management of all facets of a business' digital marketing strategy in a single location.
Q: Where do you out-perform your competitors?
Execution. Seamlessness of integrations, flexibility of platform and technology open CMS philosophy, syncing of data across products/databases, powerful sales acceleration tools.
Proven go to market.
Our ability to seamlessly integrate our platform into our customers provisioning cycle allows us to cleanly migrate sites from legacy platforms to our next-gen, future proofed platform. Via our API integration we have the ability to keep data in sync across our enterprise clients systems. We offer powerful sales-acceleration tools which help sales teams focus on executing on their product road maps and marketing strategies.
Q: Is there anything special about your Company's capabilities, experience, and expertise that I (product, brand or marketing manager) should know about?
We are battle tested. Bring us your use case and we will work with you to solve it easily, safely. When we say Do It All - we mean do it all.
Q: Describe up to three of your Company's achievements during the past year.
On-boarding and migration of over 150,000 sites/ landing pages (and counting)
Launch for our enterprise clients, the ability to address, sell to and service national brand space
Scaling Vertical solutions for auto, insurance, real estate and financial space.
API Enabled Automated site generation, powering numerous vendors with automated performance + scale
During the last year, DevHub has performed multiple seamless site migrations for multiple enterprise customers. We have also launched new products which allow our enterprise partners to service the national brand space by providing them with the ability to optimize their acquisition funnel through location finders and hyper-local location pages, regional sites and corporate web experiences.
Our API enabled site generation tool allows for the automated generation of websites and landing pages for national brand location pages.
Q: List the categories or product lines that your firm cannot work with at this time due to conflict restrictions.
We have no current restrictions on partners or products.