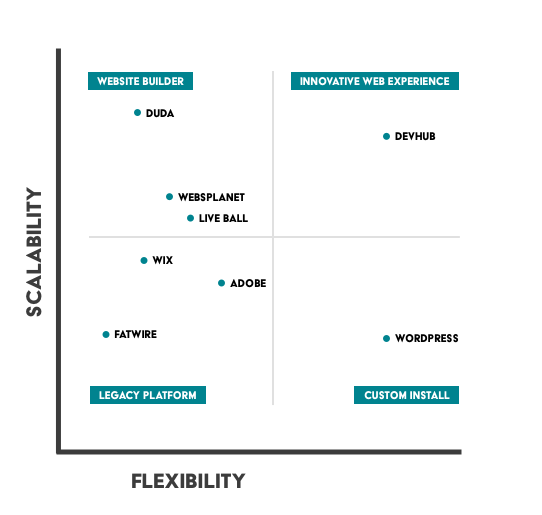 I work with product managers everyday across diverse markets from our offices here Seattle, WA and I want to share with you where we left off in 2016 and what to expect in 2017.
I would like to thank our current customers for choosing DevHub as your private label web experience platform. We are here to serve you by keeping you on the front-line of tech, trends and security. Our team(s) here in Seattle and across the globe are always sharing insights and that information helps make us better for you everyday.
As such, below are three of the most talked about problems that DevHub solved for in 2016 and three more issues we are monitoring closely in 2017. I wanted to share these with you so you can reference this post should you hear about them and know DevHub is ready:
Google Expanded Text Ads - While Google makes a good point of having advertisers focus on quality; we solve for Proxy URL depreciation. Utilizing either DevHub's Landing Page or Proxy solutions both support the flexible URL options. Learn more.
Modern Proxy Technology - Our modern proxy solution is dynamic and supports all Google Expanded Text Ad requirements + BingAds, and has robust caching technology from images to page content - ensuring the site is always being served.
Our flexible APIs allow:
Account provisioning
Deploying SSL at Scale
Analytics Reporting
Adding/ Disabling proxies
Sandbox environment for testing
Bulk update URLs
Automate domain registration
Learn more about Modern Performance Proxy technology.
Multi-Sites for taking brands local - Multi site creation is easier than you think. Here 3 ways product teams built multiple websites/ landing pages utilizing DevHub:
Time to complete (1 day - 1 week) - Master Template "theme"
Using a creative agency/ or DevHub build 1 solid template or theme that can be expanded upon or reduced depending on the use.
Time to complete (hours) - Cloning
Using the client's own digital assets, ingest into DevHub and simply 'clone it' content included or not. Any macros that you've used in content SEO tags..etc; are then shown on the new site.
Time to complete (1 - 2 hours) - API Driven
Use the DevHub API to fully automate the creation and management of sites and landing pages without even entering the site builder or dashboard.
Learn more about multi site solutions for brands.
For 2017 here are three more solutions we are prepared for:
Scaling SSL certificates - When product managers need to roll out SSL certificates across sites/ landing pages, DevHub solved this. SSL (Secure Sockets Layer) is the standard security technology for establishing an encrypted link between a web server and a browser. This link ensures that all data passed between the web server and browsers remain private and integral.
Learn more about Scalable SSL via DevHub.
Reseller, Vendor - flexible landing pages - The need from performance marketing agencies to power multiple sites for a specific brand is becoming more necessary. As scaled web experiences allow marketing dollars to flow to specific regional/ local sites - tailored offers can be pushed uniquely and tracked.
Learn more about publishing brand compliant landing pages at scale.
Agile Marketing Cloud - Build your own marketing suite via vetted partners, integrations and plugins around experience at the core.
Learn about DevHub's vetted partners/ integrations.
We look forward to winning more deals along side our customers in 2017+.