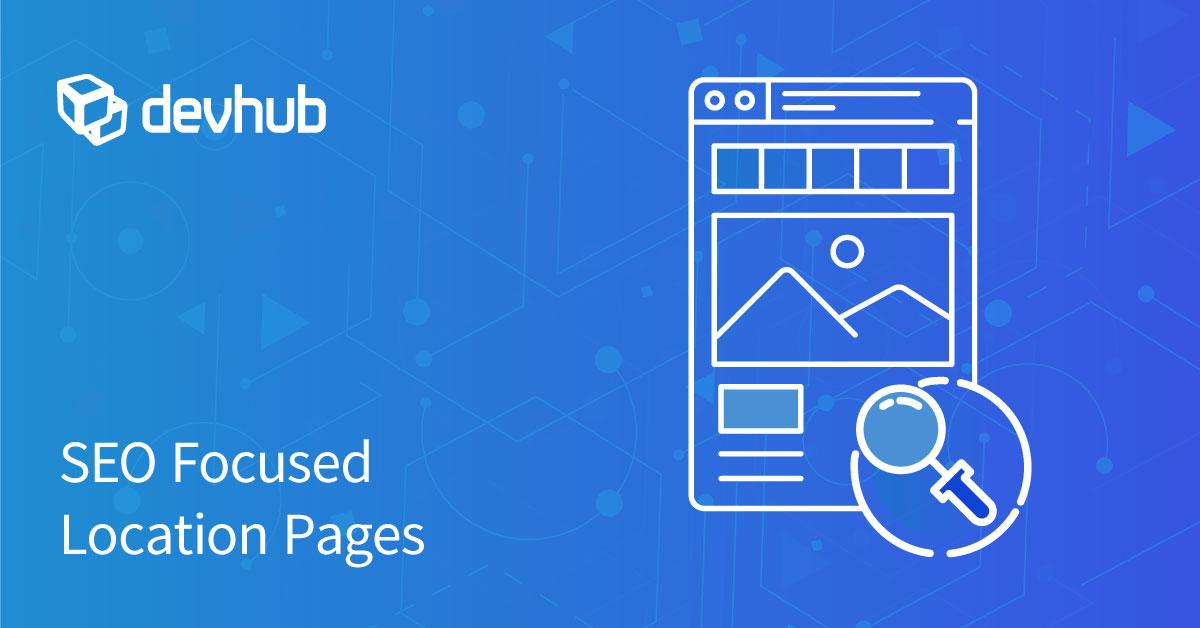 "50% of consumers who conducted a local search on their smartphone visited a store within a day, and 34% who searched on computer/tablet did the same." - Google
This article gives tips and tricks on how to create location pages that check all the boxes for CMOs. From ranking to Google Local Pack - Winning at the local level provides brand awareness and more complete consumer experience.

Location Page Basics
Location pages will generate traffic to your brand at the local level and offer insights via traffic from which data can show what it is/ was the searcher's intent.

Getting found in the SERPs and Google Local Pack is important for your brand but every industry is different so winning local SEO will combine a number of strategies (ie: content, correct data, business listing management, 3rd party vendors).
Location pages let you provide localized content that gives a local voice to the business in the geography you are operating from..
An ideal location page should address common local knowledge and frequently asked questions.
Qualities of Location Pages
Detailed NAP contact information and maps where appropriate.

Schema markup for information to be pulled up by voice-activated devices and by search engines for informative results for users.

Location pages need to be in-sync with all location-enabled apps, maps, devices.
Common Location Page Elements and Structure
The best practice for location pages is to include:

1) Imagery relevant to the local market
2) Written content that includes local keywords/information about neighborhoods
3) Specific calls to action (ie: phone number, directions, newsletter signup).
4) Use a URL structure that fits your site but also clearly defines the location. (ie: https://www.example.com/sl/seattle-pike-plaza/2136 (including a store number is ok too)
https://www.example.com/metro/seattle-downtown-washington
5) Add meta descriptions that reference location data and specific services.
6) Adding video enhances location pages by showcasing unique elements of how your brand serves the local market.
7) Add reviews from local customers, as well as staff quotes or interviews, (data feeds, if available, can be supplemented (ie: MLS feeds).
Location Pages: Closing The Loop
One of the worst things you can do is add location pages but not connect them to the site's navigation.
Try to refrain from creating poor short form content with no relevant local value, it's fine overall for content to be short if it satisfies searcher's intent.
Do not stuff location Pages with keywords; especially for locations, you do not offer services.
Solve NAP data-related problems with business listing management tools that offer audits to track progress at every step (ie: Moz Local, Chatmeter, Advice Local).
Identify content on a local level with keyword research, use tools like SEMrush, MOZ Local.
Align fresh content with relevant keywords based off of local level data.
Optimize for both the mobile experience first and the desktop experience. Adding the use of semantically related keywords for long tail strategies to drive more targeted traffic could be used.
Large brands create hundreds even thousands of Location pages as apart of their local SEO strategy using tools like location pages by DevHub.
Developing A Repeatable Process
The use of templates to maintain brand compliance save time by providing specific guidelines for content.
Store content into spreadsheets (ie: creating rows for locations, columns for any page content section.).
Identify and organize your resources to plan your content schedule (such as graphics, data, reviews, staff quotes etc.).
Getting content created may take the majority of your time; If it is in-house or outsourced.
Note outsourcing takes more legwork to make sure content will be up to standards.
If the content is mapped out in spreadsheets you can use tools like RallyMind to create hundreds of Location Pages from a single CSV file.

Make sure to have a process to review and update pages as it is important to refresh with new content periodically.